[China] A trucking life
When I called Da Jie (my oldest cousin) to tell her I was back in the village, I was surprised to find that she was in Xinjiang – all the way on the other side of the country. "Don't worry, I should be back in time for the holiday!" she assured me. Da Jie has been on the road for the last 5 years. She travels in a long-distance delivery truck with her husband Da Jie Fu and 19-year old son Leilei. They transport shipments all over China, moving everything from coal to furniture. Since they drive non-stop through day and night, Da Jie ensures that her son and husband stay awake at the wheel during their long shifts.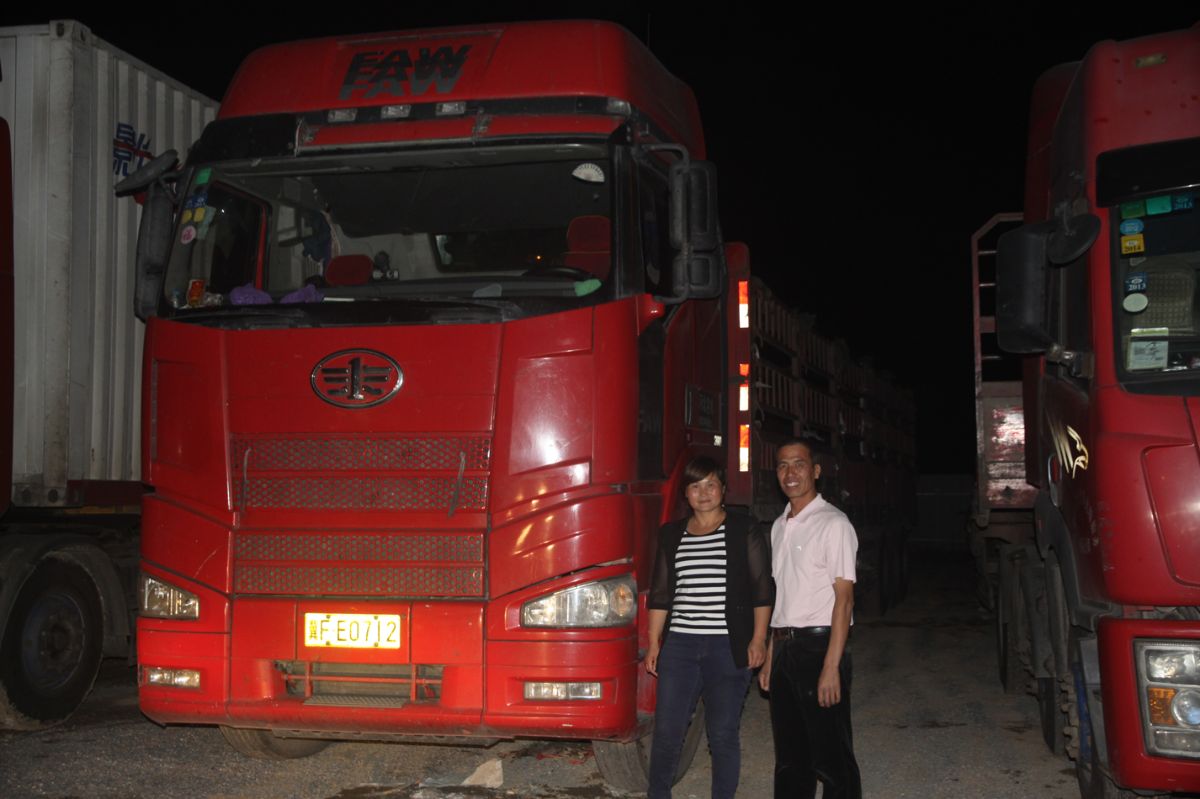 Da Jie used to be a hairdresser in her village, but after many years, the strain on her shoulders became so severe that she was forced to stop. At that time, Leilei dropped out of junior high and started driving with his father, so Da Jie joined to look after them on the road. Despite it being nice to work with family, things haven't been easy. "It's not a good business to be in right now," Da Jie explained. "The economy isn't doing well and we don't make much money anymore. Every year there are fewer shipments and people aren't willing to pay as much for them." I didn't expect to hear that with all the news about China's growing economy, but Da Jie dismissed the hype. "The government is really good at chuiniu (talking big). Our line of work directly reflects the state of the economy, and the truth is, the majority of businesses here are doing quite poorly." As soon as Da Jie and her family return from their latest haul, they call the shipment center to be placed on a waiting list for the next load. What used to be only a day's wait for a shipment is now usually 3 days. Rising gas prices have also been squeezing their margins. A trip to Xinjiang carrying 36 tons of coal has toll costs of 7000 RMB and gas costs of 10 000 RMB. Oftentimes they barely break even or operate at a loss.
Another source of their troubles is the increasing number of railways being built. Railway companies now employ fleets of small vehicles that pick-up shipments from people's houses and transport them directly onto the trains, creating more competition for long-distance trucks. There are also plenty of dishonest customers to watch out for. While unloading shipments, Da Jie needs to be especially careful. "The companies often try to cheat by hiding items and saying that we've lost some of the load. They then demand that we compensate them," Da Jie explained, sighing over how sleazy people can be. "That can cost us another few thousand RMB."
Da Jie and her family have travelled to nearly every province in China, driving non-stop through day and night. "We've seen plenty, but we never have the chance to enjoy the locations," said Leilei. He then showed me blurry photos of Sichuan's wild landscape, Yunan's Tibetan villages, and the deserts of Xinjiang. "Xinjiang is not a very good place, but we have more shipments there because the railroads aren't as developed. The Uyghur are strange and we try not to interact with them much. We go there and come back as quickly as we can." There have been many conflicts in Xinjiang between the Uyghur minority and ethnic Han-Chinese, and many people have been killed during recent riots.
Although there are mounting challenges, Da Jie Fu is reluctant about leaving the industry. "I've been driving trucks for over 20 years and I plan to keep driving for at least a few more. After that, we'll see what new opportunities arise. China is changing so quickly, no one is sure what the future will look like."