How might we connect local organic businesses and urban consumers to promote sustainable agriculture in China?
With a population of 1.3 billion people, the issue of food sustainability is a major concern for Chinese citizens. Due to the many recent food scandals, people are increasingly wary of how their food is produced. The heavy reliance on chemical fertilizers and pesticides is harming the environment and placing even greater pressure on land and water shortages. In addition, the Chinese government has made the reduction of CO2 a priority – much of which is created by food production and distribution.
I collaborated with Tsinghua University's Sustainable Design Institute team in Beijing to research and design solutions to promote more sustainable farming practices. This is a particularly personal issue for me because many of my close relatives live in rural farming communities.
The Process
Our team spent 4 months understanding the sustainable food industry in China, identifying challenges faced by farmers, market organizers, government, and urban consumers through interviews and in-context immersion. We discovered that although most consumers are concerned about food safety, it's a challenge to find healthy and sustainable food options. Since the concept of sustainability is relatively new in China, organic farmers also have a difficult time educating consumers about the benefits of their produce.
The Result
The "Green Living Beijing" web platform is designed to aggregate all local businesses relating to sustainable food culture in Beijing. Users (namely parents with young children and expats) can look for listings in three action categories: Buy Green, Eat Green, and Play Green. The platform will be home to an online community of Beijingers who wish to partake in a sustainable food future. It will include social media updates about events throughout the city and a Green Living blog to provide educational content. Users will be encouraged to add business reviews and upload their own listings.
Our research was generously supported by the IDEO.org Human-Centred Design Grant.
the Team
Jessica Fan (Service Designer)
Professor Liu Xin (Deputy Director of Sustainable Design Institute, Tsinghua University)
Xia Nan (Research Assistant, Tsinghua University)
He Siqian (Industrial Design Grad Student, Tsinghua University)
My Role
Project coordinator, service designer, front-end developer
Previously submitted on Ideo.org HCD Connect
1. Understanding the sustainable food industry in China
In recent years, a new model of farming has spread rapidly throughout China. Community Supported Agriculture (CSA) is a concept that originated in the 1970s in Switzerland and Japan, and is beginning to find root here. Consumers in search of a safe food supply and organic farmers looking for a stable source of income are working together to establish an economic partnership. CSA's hire local farmers who have years of farming experience, but often receive little income from their small plots of land or have lost their land due to government projects. CSA subscribers purchase shares of a year's worth of harvest, receiving weekly deliveries of fresh seasonal produce. This model guarantees farmers a year's revenue and helps mitigate any losses due to a bad season. In some CSA's, such as Little Donkey Farm in Beijing, city dwellers can rent a piece of land and grow their own organic vegetables.
As designers at Tsinghua university, we are currently researching issues related to mainstream food production, distribution, sales, and consumption. Our goal is to construct a CSA Food Network – strengthening the local economy, promoting sustainable agriculture, and building relationships between organic farmers, local businesses, and consumers.
Themes for exploration
Food Safety and Trust-building: In light of multiple food safety scandals throughout China, consumers are highly concerned about the quality of their food supply chain. Chinese have become suspicious of many national brands and often do not even trust labeled organic products sold in supermarkets. Identifying ways to ensure local food quality and build consumer trust will be one of our main challenges.

Environmental sustainability: China's economic growth has resulted in many large-scale industrial and infrastructure projects but little long-term planning. This has caused much environmental degradation putting food security and human health at risk. To ensure the preservation of ecological diversity, the protection of the natural environment, and the long-term use of agricultural lands, we are looking for ways to promote sustainable food production and consumption.

Urban-rural community interaction: As China undergoes rapid urbanization, it has become increasingly important to preserve social balance by supporting agricultural development and farmers' livelihoods. At the same time, the expansion of cities into farmland is creating more opportunities for farmer-consumer interaction. We are exploring urban-rural social cohesion models centered around local food production to promote community-building.
Preservation of local culture: Many Chinese people have long family history rooted in the countryside, where much of traditional culture is still preserved. Due to the country's swift urbanization, many who have transplanted to the cities are losing touch with their heritage and identity. With new information technology and through education about local food culture, we hope to find new ways to preserve and integrate traditions into China's modernizing society.
2. Identifying challenges and creating a vision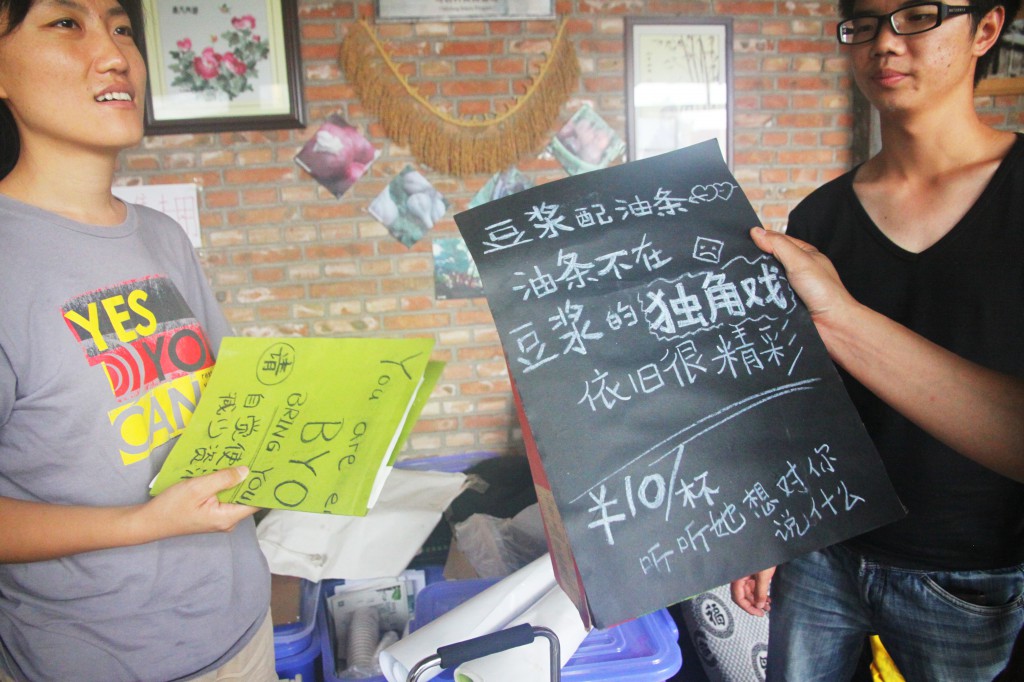 We spent several weeks visiting and interviewing members of Little Donkey Farm (Beijing's first and largest CSA), Shared Harvest (a newly established CSA), and organizers of Beijing's first organic market. Although demand for quality organic food has risen, our conversations and in-context immersion revealed that CSAs are still facing many business and social challenges.
CSA Management
Logistics: Due to the distance between the farms and urban consumers, the cost of weekly deliveries is a large proportion of expenditures. As the number of customers increase, CSAs will need to find more efficient methods of distribution in order to maintain profitable.

Farmer Recruitment: Most farmers have only ever used pesticides/chemical fertilizers on their land. Although they can see the environment degradation, they are often skeptical about organic farming practices. CSAs that rely on using farmer-owned land (such as Shared Harvest) are having difficulty finding partners willing to join their business, despite having an existing group of subscribers.

Educating the market: Many Chinese consumers are still unfamiliar with organic food production and do not understand why they must pay higher prices for it. Organic produce often look different from the perfectly shaped vegetables people are used to seeing in stores. CSAs need to find ways to reach and educate consumers about the health and environmental benefits of their products.

Land Use: It is common for CSAs like Little Donkey Farm to rent land from the government, renewing their contract every 3 years. The uncertainty and bureaucracy surrounding land use results in an unwillingness to commit to long-term and high-cost projects.
Farmers
Lack of job opportunities: Many farmers have lost their land due to urban development projects and are considered either too old or uneducated for well-paying jobs in the city. Those who do still own land barely make enough money from their crops to cover rising living expenses and are forced to look for supplementary income.
Class prejudice: The Chinese consider the countryside as a place of slow development and little opportunity. Despite their knowledge and experience working the land, farmers are perceived as having low status in society. The government provides farmers with few social benefits and health/environmental protection regulations are rarely enforced.
Organic farmer's market
Gaining Consumer Trust: The organic market sources all its food from local CSAs. The market organizers frequently inspect food production at the farms in-person to ensure they are truly organic. As more CSAs use the market as a channel to sell their products, ensuring that consumers continue to trust the quality of produce will become a bigger challenge. How do organizers prove that sellers are credible and what evaluation metrics will they use?

No permanent location: Due to the cost of high rent, the organic market sets up in a different location every week depending on the space it is able to procure. This adds to logistical challenges and makes it difficult for customers to find the market.
Urban Consumers
Food safety concerns: Due to the food safety scandals that are constantly being revealed in the media (many of which surround well-known brands), consumers are unsure of which suppliers to trust. Many are even skeptical of food labeled as certified organic being sold in supermarkets. Parents want to ensure their children are eating nutritional and healthy food, but it is difficult for them to find local and credible sources.

Lack of awareness about sustainable alternatives: The concept of sustainable living is relatively new and farms/companies working within this area operate in isolation. Many consumers are unaware of sustainable lifestyle alternatives, such as buying organic food, using eco-friendly material, or composting. There are few resources available to help educate the general public.
Based on insights gained from our research and eliciting feedback from CSA members, we have developed a vision for a "sustainable living network" to address challenges related to CSA marketing, logistics, and consumer education. Our first step is to create an online platform providing information regarding local CSAs and organic markets around Beijing. We plan to conduct in-depth interviews with both CSA customers and regular consumers to determine behaviours and needs of different market segments. We will also be holding participatory design workshops with local CSAs to identify ways to improve producer-consumer relationships and build stronger trust.
Further on, we plan to explore a community center concept operating as an urban distribution site for CSA products, an organic food restaurant, a compost waste collection site, and a space for public discourse related to sustainable living. This center will act as a platform connecting urban consumers, farmers, CSAs, and other related parties. Our vision is to create a space where consumers can not only find fresh green food, but also foster a community based on knowledge sharing and sustainable living in Beijing.
HCD Methods
We conducted extensive interviews in Beijing with local farmers, CSA management, urban consumers, and organic market organizers. We made multiple field visits to understand the context in which these groups are operating in and the challenges they are facing.
3. "Green Living Beijing" Concept Validation
We generated a business model canvas, outlining our assumptions about customers, revenue models, channels, partners, and expenses.
Beijing Organic Farmers' Market
The Beijing Organic Farmers' Market is the largest health food market in the city. We attended the market for two weeks, using the HCD method of in-context immersion to understand the interactions between farmers and urban consumers.
Findings:
Most of the customers were couples with young children
Main issue for customers is the terribly congested traffic situation in the city. Due to the changing location of the market every week, most people can only attend the market when it is near them
Weibo (Chinese version of Twitter) is the only way to receive updated information about the market.
Most of the interactions occurred between customers, who usually discussed topics related to their children (eg. education, food, health etc.)
Farmers actively tried to educate customers about their production methods in order to win their trust.
Most customers were quite receptive to the idea of the Green Living Beijing platform, requesting ways to contact the farms, have discussions, and read reviews about products so it would be easier for them to compare their food sources.
Organic Farms
Our next stops were organic farms located near Beijing where we conducted field studies and interviewed farming experts and marketing managers.
Findings:
The major issue is building the trust of customers who doubt their product's safety. All marketing material related to the food production and quality is produced by the farms themselves. Without a third party organization to verify their claims, customers will always have concerns about the food they are receiving, given the context of China's corrupted and broken food system.
HCD Methods
In-context immersion, expert interviews, individual interviews, surveys, and the farm interview guide.
4. Learning from Eco-Experts
We interviewed Hu Zhe, organizer of Friends of Nature - one of the largest environmental NGOs in China. Hu Zhe was responsible for spreading the Green Map project (not associated with our current project) from New York to Beijing, and organized a series of related community initiatives. According to Hu Zhe, the greatest challenge in China is to motivate people to participate voluntarily. Unlike in western societies, Chinese people do not have a strong sense of community. People are reluctant to use their spare time to engage in public service activities despite encouragement from non-profit organizations. Meanwhile, there is still much to be done to raise awareness about the growing number of environmental and social issues to the Chinese public.
We also spoke with Niu Jian, a famous expert of indoor farming systems committed to spreading his technology throughout China. Niu jian identified possible consumer challenges when using our participatory platform:
For the large portion of Chinese consumers who are not technologically savvy, the online platform may be a barrier, especially if there are too many layers of information to navigate through. How can we make the information more accessible?
A collaborative platform must provide users with interesting content and a rewarding experience. How will we keep users engaged enough to contribute and return?
We should consider paid services to allow for continuous site development and high quality content. The system would be difficult to maintain without revenue so the long-term business development strategy is essential.
HCD Methods
Expert interviews
5. Testing Our First Prototype
Based on our new understanding of the food ecosystem, we created a stakeholder map and journey map to help us imagine the experience of urban consumers as they find and purchase healthy food products using our platform. This helped to inform the content and navigational elements of our paper prototype.
While at the organic farmers' market, we interviewed 15 families. Our findings:
Visitors usually travel to the market on average twice a month, choosing the location based on recommendations from friends
Convenience of bringing children along is also a large factor
Instead of using Weibo (Chinese Twitter), most people would rather talk about experiences with their friend groups on WeChat (Chinese Whatsapp)
The website appealed mostly to 20-30 year olds with young children; however, even older couples said they would be interested in using it with the help of their teenage children
Most surprising was the reaction we received from young children. We made a board for visitors to illustrate their ideal green lifestyle and it was quickly overtaken by children's drawings. Kids were enthusiastic about sharing their own ideas about a greener future and were eager to learn more. Parents expressed that they wanted their children to understand where healthy food comes from, how it is grown, and why it
is good for them. This was a major reason why parents would bring their children to the market. Perhaps by including more food and health information on our platform targeted towards kids, we can also attract a larger parent audience.
HCD Methods
Journey mapping, stakeholder mapping, interviews
6. Website Design and Implementation
We designed the Green Living Beijing web platform as a listing site for all local businesses in the sustainable food community. Our team has gathered information on hundreds of CSAs, organic farms, farmers markets, restaurants, stores, eco-tourism businesses, and events around Beijing. To make it easy for users to search for relevant information, we separated the listings into three action categories: Buy Green, Eat Green, and Play Green.
Below are mockups for the website. Due to the huge adoption of mobile phones in China, it's also essential that the site is mobile-friendly. The final version will display both English and Chinese. We wanted the site to convey a simple modern lifestyle, appealing to parents with young children. We chose natural colours representing sky, earth, and plants.
The Homepage introduces our mission, and includes large bright images of children and happy communities. It has large buttons linking to category listings and the Green Map. We included a blog to share sustainable lifestyle tips, as well as a social media RSS of events happening around the city.The Green Map is a core feature of the platform, giving users a visual of all the local businesses near them. Listings can be easily searched and filtered based on a category and tagging system. Users can post reviews about businesses they've visited. Eventually we hope that the community will create their own listings, making this a crowdsourced database that is constantly updated.